SENSOR DDS® MOBILE
Walk Over Dipole Leak Location Surveys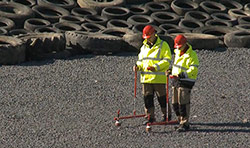 SENSOR DDS® MOBILE technology is designed to inspect the integrity of covered membranes / liners / asphalt irrespective of covering type (e.g. liquids, soil, gravel, concrete etc.).
Waterproofing methods such as asphalt or plastic liners are often covered with a variety of materials following their installation in many different applications. It is a paradox that these coverings are often placed as a 'protection' to geomembranes because it their placement that is the predominant cause of damage.
In this version of SENSOR DDS® technology no permanent components are installed on site, electrical sources are temporarily placed near the area to be tested and the sensors are carried to each grid location where measurements are taken.
Experience is critical Technicians must differentiate between environmental / geological influences and anomalies that are as a result of damage.
All Sensor technicians are highly experienced and backed by Sensor's 23-years of accumulated know-how.
The use of SENSOR DDS® MOBILE is limited by the thickness of covering above the liner, which must be no greater than 600-900mm. Where the liner is submerged (water / toxic liquor) the operable depth is unlimited.
Advantages of Walk Over Dipole Leak Location Surveys:
Cost effective
No upfront cost
Additional Quality Control
Electronic verification of integrity.
Dipole electric leak location method
Technology designed for testing covered liners
No permanent components are installed on site
Technicians experienced - crucial highly skilled service
Covering over geomembrane must be less than 900mm
Operable depth unlimited in submerged liners
Fast up to 5000m2 surveyed per day per man
Works with versatile range of covering materials:

concrete
water (or other liquid)
gravel
soil
clay